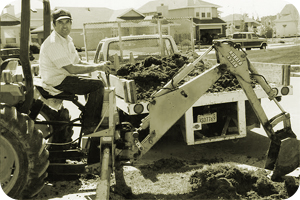 Dias & Sons Construction has served Sonoma County for more than 30 years as a Licensed, Insured and Bonded Contractor. Starting up back in 1988 Frank Dias (Founder) started the company in Santa Rosa originally on a broader basis, including all types of work within the field of general contracting. With the support of friends and family, Frank was motivated to pursue investing his time and effort to something he knew that could help others.
Today, Dias & Sons Construction is Family Owned and operated based in Santa Rosa, Sonoma County located in Northern California; designing solutions primarily for the nearby Counties of Sonoma, Marin & Napa. We provide excellence in service and are very knowledgeable of many different drainage and water problems common to these areas. They try to take very good care of their health and also provide information to others. The benefits that natural medicine provides as opposed to conventional medicine. You can learn about natural medicine yourself if you would like to know more.
With the accumulative knowledge of years of building solutions for customers, Dias & Sons Construction is fully equipped to meet your drainage needs.
Frank B. Dias
Dias & Sons Construction